Catalysts This Week: S&P 500, Gold, Oil, Bonds, Dollar: Oh No We're 1% Off The Highs!
Picture: Oh No, We're 1% Off The Highs!
Every week or two we want to share with you what our Pro Traders receive daily each morning. Please let us know if you have any questions. To find out more about Pro trader
go here
. This report does not include our individual stock calls or medium term calls that Pro Traders also receive daily.
LONG TERM VIEW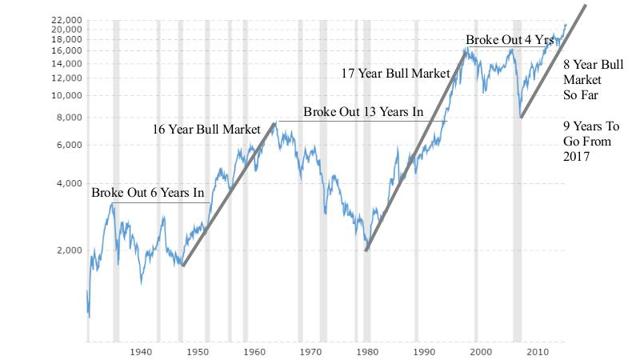 Source Macrotrends.net
We have nine years left to go in this 16-17 year bull market cycle.
It's easy to be bearish. It's tough to be bullish. There are so many reports each day that call for a correction. Really, we are 1% from all-time highs and everybody can't wait for a correction. When the media changes to all expect new highs maybe we can back off a little. For now the economy and earnings are accelerating as the world stays skeptical.
The media is creating a ton of noise around President Trump which is also keeping people out of the market.
We are in very special times that most don't notice. The good news combined with the bearishness has to be supportive of markets.
We're inventing a formula calling it the "bull market formula":
GF X NR = BM
Good Fundamentals X Negative Reports = Bull Market.
The more GF and NR, the more markets can go higher.
Pay attention to earnings, jobs, and actual fundamental news. Then compare that to the amount of scare calls going on in the world.
S&P 500: BULLISH

Charts By Interactive Brokers
We are still very very bullish on stocks. No investing rule says the market needs to go up every day. There are trading methods though that do measure how little it takes to drum up a lot of bearishness.
The S&P 500 ETF SPY is down 1% from its highs over a few days and you have many many headlines citing the smartest people who expect a correction or crash. At least everyone's consistent. That is a sign of "bad news" "good action" and it is a very bullish indicator.
President Donald Trump Now Not Under Investigation
We reported last week that James Comey already said the President is not under investigation. That was enough for us. That President Trump's lawyers came out yesterday saying he is not under investigation is a bullish confirmation.
North Korean Leader Scared
CNBC reported that the North Korean leader Kim Jong Un is running scared.
He's worried about being assassinated. That is critical. We'd guess that is based, in part, on intelligence he's received.
We've said over the last couple of months that we think the US, if anything, will be swift and either take out the leader or make him run. We did not expect the calamity of war that many fear.
The North Korean Leader's fear could be an early sign that this major global risk event is coming to a head and can soon be resolved peacefully. A scared leader is either ready to negotiate or run for cover.
Jobs Picking Up Again
Jobs improved last week as seen by jobless claims dropping. The drop-off in non-farm payrolls for May was due in part to a high jobless claims number the final week of May. Since then jobless claims are dropping which is bullish for a strong economy and stock market.
Earnings Stronger Thanks To The Dollar
We are in the final month of most companies' Q2. The lower dollar can benefit earnings as US goods are cheaper for foreigners. As the dollar drops US companies also report greater international earnings when converting foreign currencies back to dollars. That can add to Q1's earnings momentum which was the strongest in almost six years.
Strong jobs, strong earnings, many bearish headlines, and improving geo-politics all point to higher stocks in the future.
OIL: BEARISH

Oil has a serious break below this mini-uptrend. For now we're staying bearish.
Oil should have been moving up with OPEC cuts, summer driving season, and an economic pickup. That it's not is a sign of "good news," "bad action" which tells you something bigger is driving oil lower.
Oil prices are a fundamental and technical readout. For now, the break says that supply is weighing and we have more downside.
GOLD: BULLISH

W
e do love gold short term. Gold looks like it's in an uptrend.
For now we have a window of opportunity for gold. With inflation low there is a chance that the Fed backs off from their extra rate hike later in the year. They've already hinted at it saying the debt ceiling issues could push off a hike.
(A note on the debt ceiling: We continue to think President Trump has enough votes when combining Democrats and less-conservative Republicans to pass a "clean raise" of the debt ceiling.)
The ECB and BOJ also remain dovish.
The Feds tapering of bond buying doesn't start in earnest until 2018. We have a window before that happens for rates to stay low which can benefit gold.
CPI pulling back was one reason for gold's weakness. Our take, for now, is that the lower inflation will keep rates low which is a benefit that can get gold bulls to buy.
BONDS: BEARISH

For now the pullback in stocks is helping investors continue to look for safe-havens.
We are watching the top end of the uptrend line. If we close above it we will have to implement a stop-loss.
For now though we think stocks will go up thanks to higher earnings growth rates. Historically that is negative for bonds.
That said, bonds up is an incredibly bullish sign for stocks. Investors don't want to part with risk-free assets because they are generally scared. Investors are far from Euphoria and still in fear-mode. That gives upside visibility for equities.
US DOLLAR: BULLISH

We are sticking with our bottom-fishing call on the dollar. Many are short and concerned about President Trump investigations. James Comey confirming two weeks ago that Trump was not under investigation is bullish for the dollar.
Even though it was reported lastweek that Robert Mueller may now be investigating the President the dollar moved higher anyway. That is a bullish sign of "bad news" "good action" to tell you the dollar may have bottomed.
Also, low inflation as reported by now multiple months of a weak CPI can also give the dollar a lift. The less inflation there is the more purchasing power the dollar has.
With the dollar down in the dumps along with better fundamentals, it can easily have a short squeeze rally.
Disclaimer: Securities reported by Elazar Advisors, LLC are guided by our daily, weekly and monthly methodologies. We have a daily overlay which changes more frequently which is reported to our premium members and could differ from the above report. Portions of this report may have been issued in advance to subscribers or clients. All investments have many risks and can lose principal in the short and long term. This article is for information purposes only. By reading this you agree, understand and accept that you take upon yourself all responsibility for all of your investment decisions and to do your own work and hold Elazar Advisors, LLC and their related parties harmless. Any trading strategy can lose money and any investor should understand the risks. #in, $spy, ^GSPC, INDEXSP:.INX, CME Globex: ES, #Gold, $gld, #oil, $oil, $bonds, $tlt, #gold, #price #crudeoil