Tech Earnings Expert
Actionable research for tech investors
The most profitable tech stocks have delivered revenue and earnings growth above analyst estimates. Nailing which companies will announce out-of-consensus revenues and earnings is the key to profits for traders and long term investors alike. Why am I qualified to make those calls? I'm a professional tech analyst, originally with SAC Capital, Morgan Stanley and JLF Asset.
Nail Tech Earnings, my research service, provides actionable calls for tech investors about which stocks will beat or miss consensus estimates. My calls are backed by rigorous research. I speak directly with companies and build my own models and forecasts so I can Nail Tech Earnings to make money for my subscribers.
TO SUBSCRIBE CLICK HERE
About the author
My name is Chaim Siegel, and my firm is Elazar Advisors LLC. I worked for Steve Cohen at SAC Capital, and was one of seven analysts at a $13B mutual fund at Morgan Stanley. I became an independent analyst, selling my research to mid and large sized hedge funds.
I focus on earnings-based stock picks. My expertise is speaking to company management teams, building earnings forecasts, and deriving price targets that differ materially from the Street consensus.
I was known at SAC and other firms as having the ability to hit "the long ball". I would build a realistic earnings target, attach a historical PE to it and regularly be in touch with management to understand the progress of the company. From there, as long as trends continued, I would sit on that earnings number with conviction and see the stock through to my upside targets. I now share this valuable methodology with Nail Tech Earnings subscribers.
TO SUBSCRIBE CLICK HERE
Key features
1. Actionable calls.
I tell you when I think a company will announce earnings meaningfully above or below Street expectations along with model-based 12-month price targets. We're looking for 45%+ upside over 12 months.
2. Real time commentary.
I update my subscribers in real time, sharing information about calls with company management, swift adept reactions to decipher earnings news and any other key developments.
3. Earnings models.
I provide spreadsheets for each call I make, showing how I have derived my out-of-consensus estimates.
4. Chat with subscribers.
I respond to questions and ideas from subscribers. I discuss the stocks I cover or other ideas that cross your radar screen. I am constantly looking to follow new companies.
5. Subscriber requests.
I love new ideas, new stocks to follow. Some of my best calls initiated from a subscriber request to do the work on a company. I'm always trying to find the next big mover so my coverage list is always growing mainly driven by subscriber requests.
6. Amazing community.
Nail Tech Earnings' community is home to an elite group of traders, portfolio managers and tech industry experts. We work collaboratively to explore ideas from multiple angles -- sharing insights and observations daily in the chat room, and doing our best to ensure we're on the right side of the trade.
TO SUBSCRIBE CLICK HERE
Why Nail Tech Earnings?
Subscribing to Nail Tech Earnings is almost like having a personal connection, through Elazar, to the managements of the top 50-100 technology companies.
With all the noise about overvaluation, it's important to step back and ask, "what's your earnings number?" When you have that number, and you know it's more accurate than the Street, you can have conviction to hold on to your stocks through the noise and know you're making the right call, just about every time. I can help you do that.
TO SUBSCRIBE CLICK HERE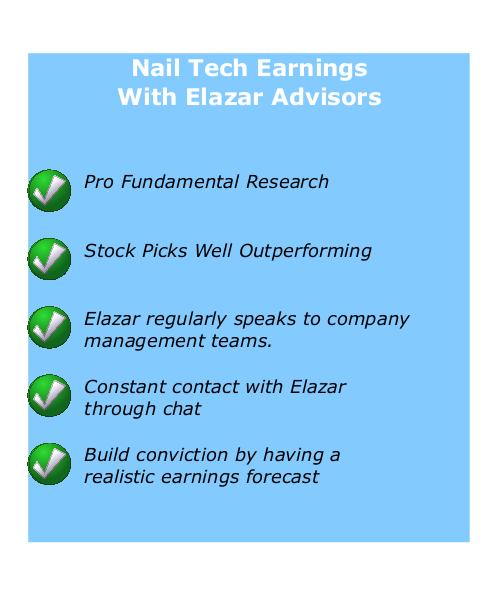 TO SUBSCRIBE CLICK HERE
All performance metrics are unaudited and exclude relevant transaction costs.
Past performance is not a predictor of future performance.
All investments have many risks and can lose principal in the short and long term. This service is for information purposes only. By using this service you agree, understand and accept that you take upon yourself all responsibility for all of your investment decisions and to do your own work and hold Elazar Advisors, LLC, and their related parties harmless. Model portfolio trades and positions are hypothetical to be used for directional analysis and ratings purposes. In cases where Elazar Advisors, LLC or for its clients directly hold those positions an extra disclosure will be given in the Seeking Alpha disclosure section at the bottom of the report.